A full range of quality hand-guided longarm quilting services that will add the perfect finishing touches to your quilt!
 Meandering
: $0.025 – $0.045 / sq. in.
Large to small stippling and various combinations added to the meandering such as loops, leaves, swirls and more.
Edge to edge: 
$0.03 – $0.04 / sq. in.
Pantograph quilting designs form a continuous pattern over the entire surface of your quilt.
Custom Designs: 
$0.045 – $0.075 / sq. in.
Any quilting that is not an all-over or edge to edge design is considered custom. Custom quilting provides many different artistic and interpretive design options to create the look you desire.
Echo quilting: 
$0.06 – $0.075 / sq. in.
Outlining and echo quilting will give applique designs the attention they deserve, while filling in the background space around them
Heirloom: $0.075 – $0.12 / sq. in.
Heirloom quilting designs will provide a rich, old fashioned look with heavy intricate quilting that is very labour intensive.
Basting:
$0.02 / sq. in.
Basting will put all those layers together so you can hand stitch or tie your quilt with ease.
Drop us a line for more information or to schedule your project for quilting.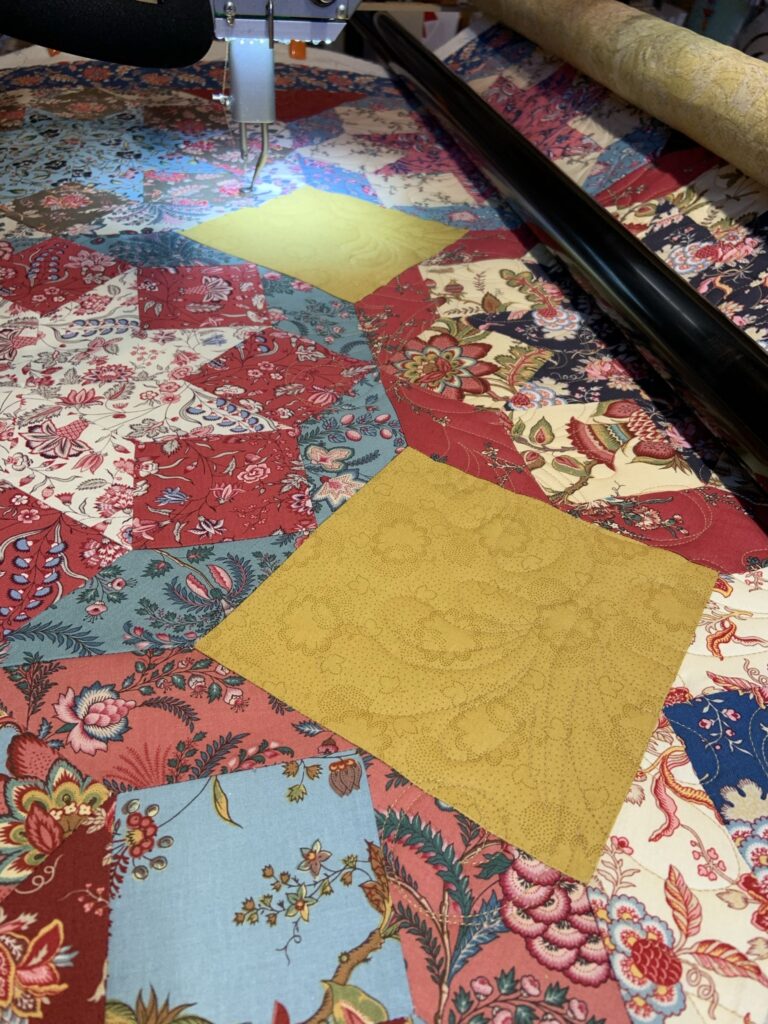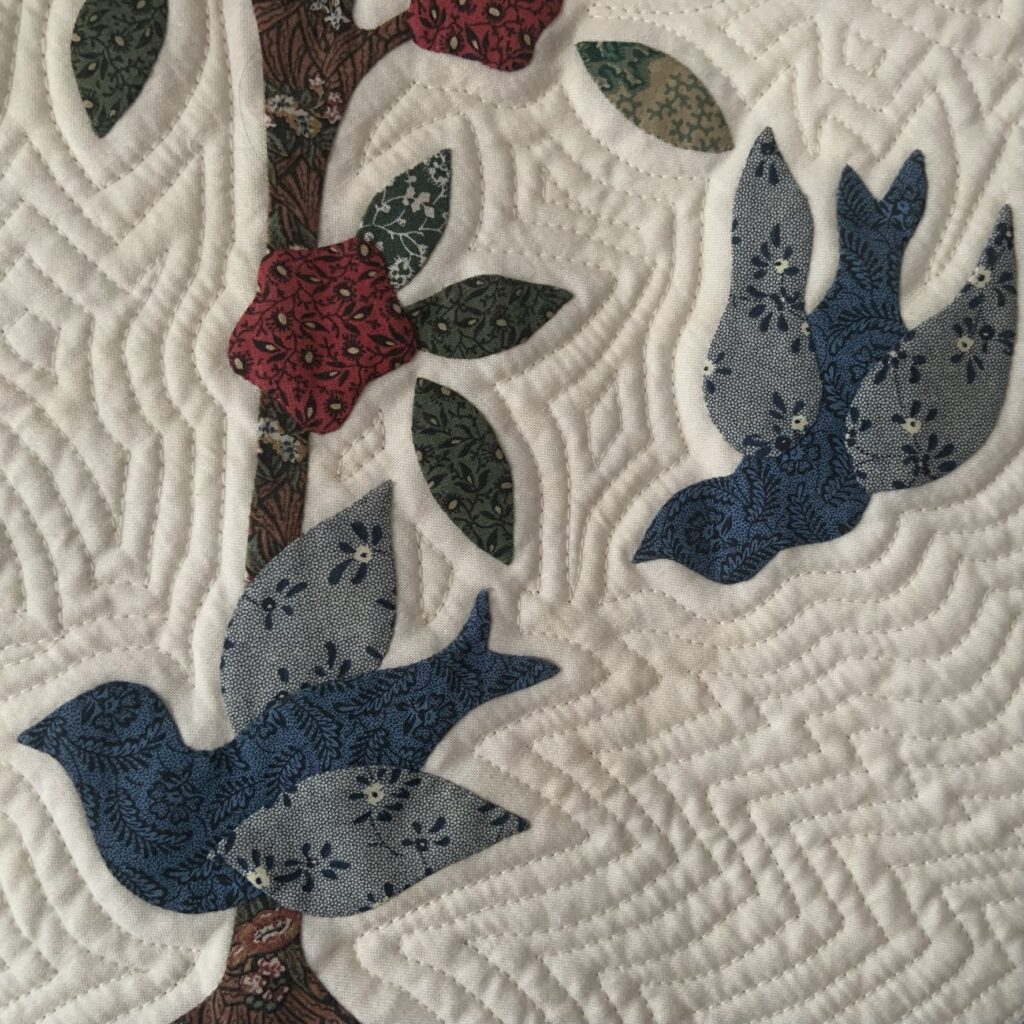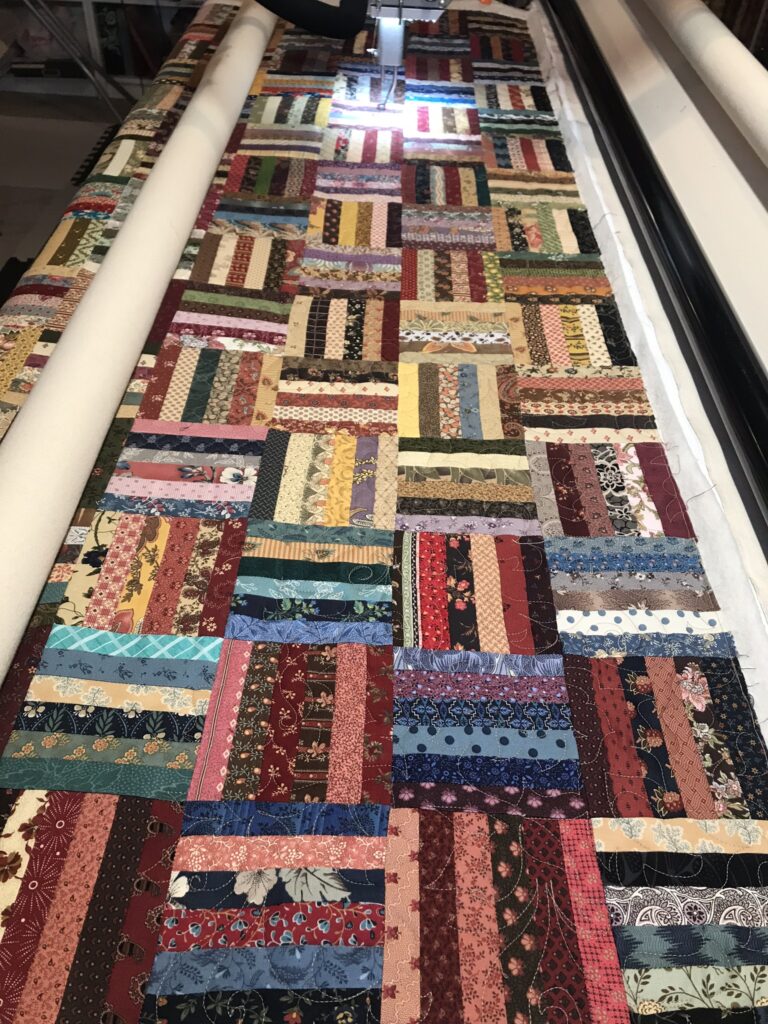 Backing
Batting & Backing must be at least 4" larger than the quilt top on all sides. For example: if your quilt top is 50" x 50" then the backing fabric should measure 58" x 58".
Please remove selvedge edges if the backing fabric is pieced together.
Do not send bed sheets to be used for the backing.
Borders
If your quilt has a pieced border or any bias edges, it is recommended that you stay stitch 1/8" around the entire perimeter of the quilt top for stability and to avoid distortion. The stitches will not be visible once the binding is on.
Remove
Please remove all pins, buttons, charms and any other embellishments from your quilt top.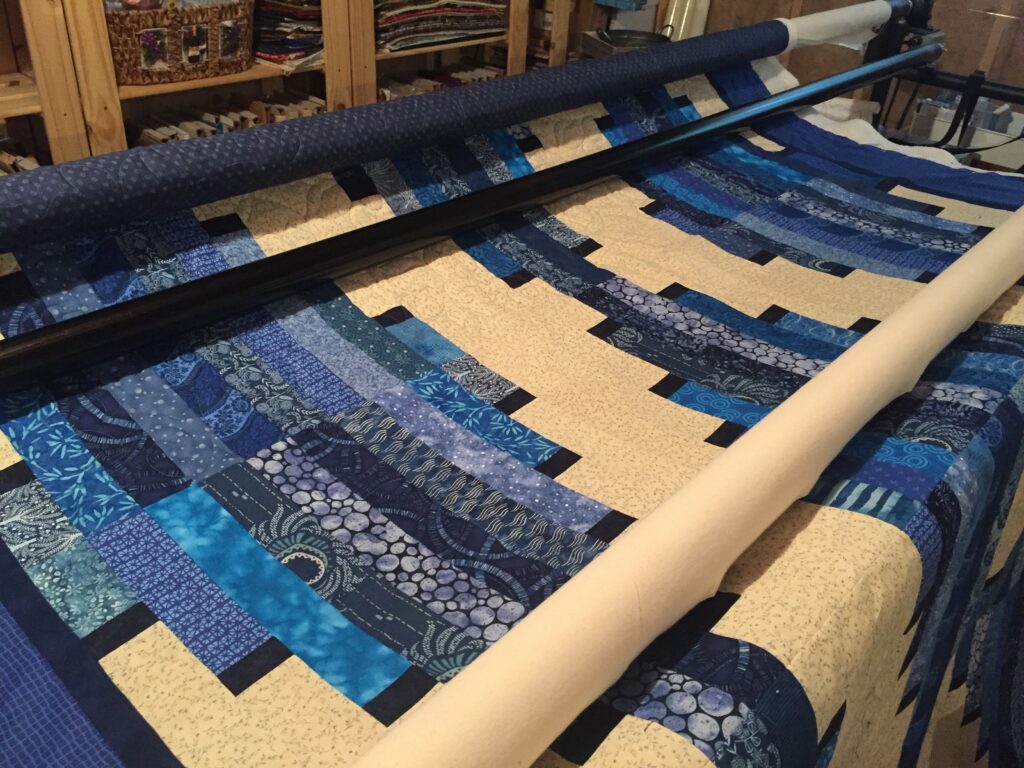 Trim
Trim all loose threads on the top and underside of your quilt top. This will ensure that the threads will not show through in the lighter areas.
Press
Please ensure your quilt top and backing is well pressed and wrinkle free prior to drop off. It will be quilted in the condition it is received unless otherwise arranged in which case a pressing fee will apply.
Note
If the quilt top or backing is directional, please identify with masking tape or by pinning a note to the top.
If your quilt top has a flange, please baste it down prior to quilting to ensure the folds do not flip under the machine needle.
Glass Thimble Quiltery reserves the right to refuse to quilt any project that does not meet the acceptable standards listed above.
 Earn savings now!
First time clients receive a 10% discount on their first quilt service!
Have 5 quilts longarmed and receive 10% off the 6th quilt!
Refer a friend for any longarm service and receive 15% off your own next service once their quilt is completed!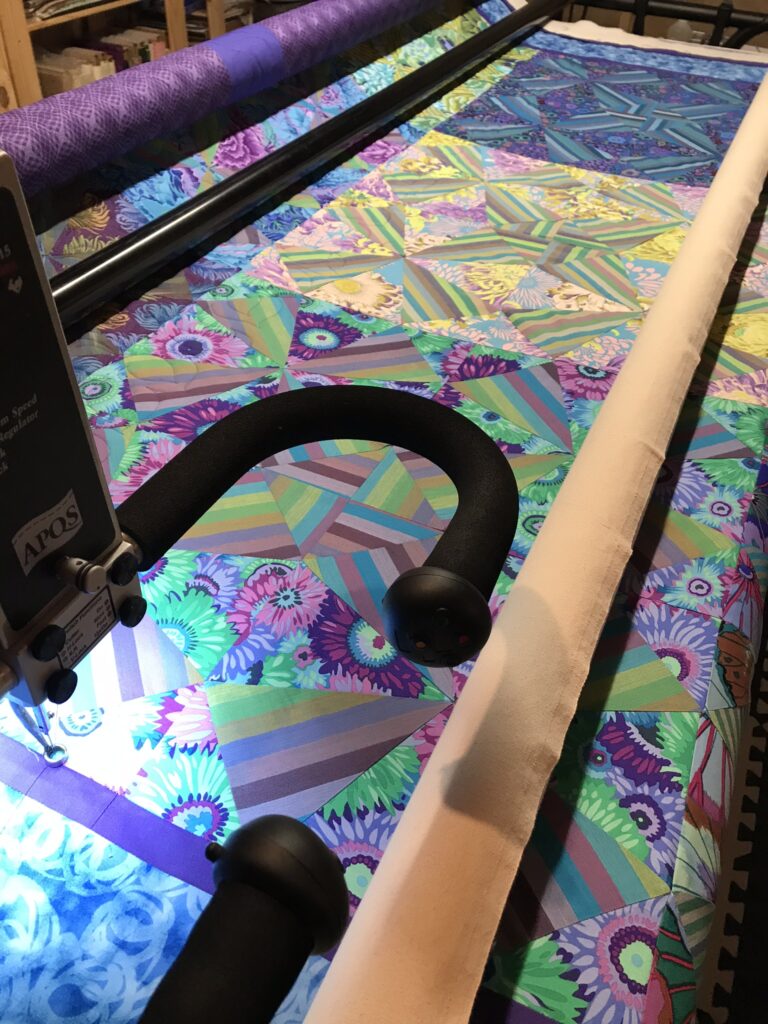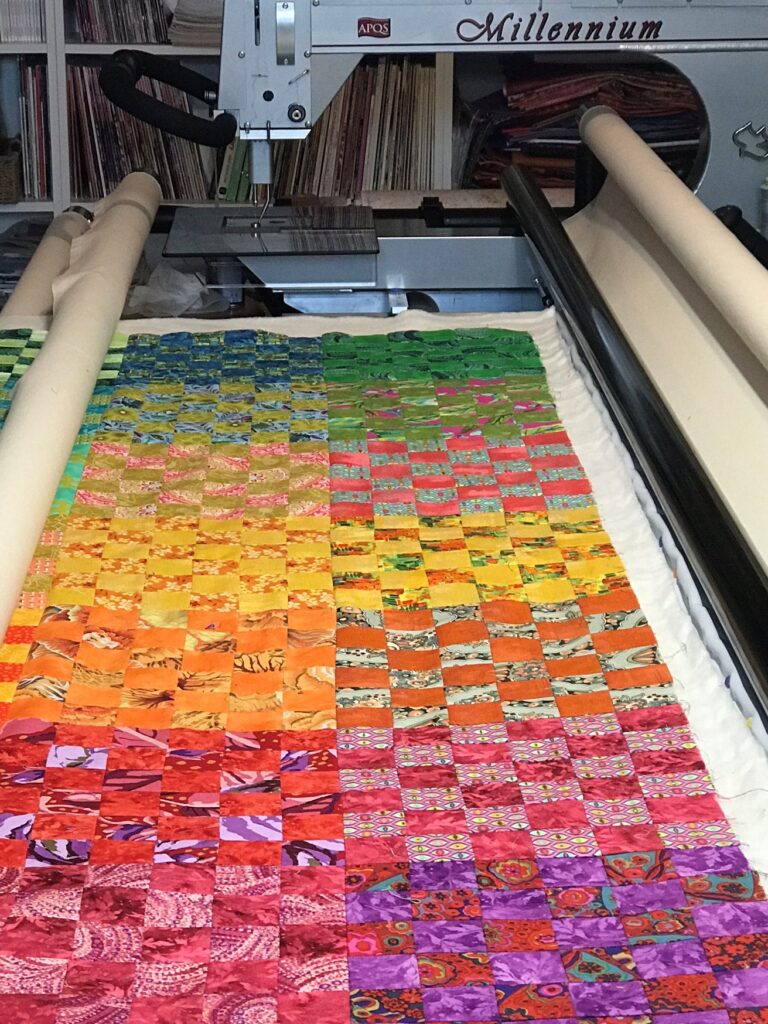 A $50 minimum fee will apply.
A $50 rush fee may apply if your quilt is needed in less than two weeks.
TO CALCULATE THE SIZE OF YOUR QUILT:
Multiply the length by the width in inches.
For example: An average queen size quilt top measures 90 inches by 108 inches. 90 x 108 = 9720 square inches.
SHIPPING YOUR QUILT TOP:
If you are shipping your quilt top – please be sure to include quilt top and backing fabric. You may also ship batting, or it is available for purchase with your quilting service to avoid extra shipping fees.